Tips to Help Combat Dry Skin in Winter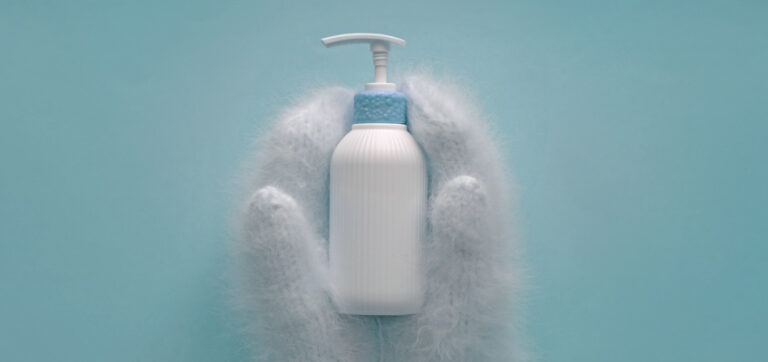 Brrr… Baby, it's COLD outside!
Living in Northern Michigan on the coast of Lake Huron, we have a front row seat to gorgeous, natural beauty each and every season, but make no mistake, in the winter, the elements can be brutal to your skin. Winter is a time when the humidity drops resulting in cold, dry temperatures. Running the heat strips your skin of its natural moisture. As a result, this time of year, you may suffer from dry, flaky, red, itchy or sometimes bleeding skin.
In addition to winter weather, dry skin can be accelerated by your age, how much time you spend outside, and of course, where you live. Simple tweaks, such as changing up your skin care routine during the winter months, can pay big dividends. To help you stay on top of your skin's needs this winter, here are a few tips to help you avoid or minimize dry skin!
Drink LOTS of water!
It is well known that drinking 8 glasses of water a day is great for your skin, but it's even more critical to do this (and more!) in the winter. Drinking water has SOOOO many great health benefits, from lubricating your joints to improving mental performance. We have even learned that drinking water first thing in the morning has interesting benefits as well! You can learn more about it in this Real Simple article from June 2022.
However, I am here to discuss ways to combat dry skin, and drinking water hydrates your skin from the inside out. Drinking water is the most natural way to hydrate your skin. So, be sure to incorporate this tip into your lifestyle every day and your skin and overall health will thank you!
Run a humidifier.
Having the heater run all day every day does keep your house toasty warm, but it also sucks the moisture out of the air and out of your skin! One of the easiest ways to combat this is to run a humidifier to release a fine mist of moisture into the air and help keep your skin from drying out.
Choose your body wash wisely!
Ensure that you're using a moisturizing bar soap or body wash when showering that includes vegetable glycerin and is free from parabens and sulfates. Organic, plant-based body washes generally contain vegetable glycerin because of its natural moisturizing power and its proven record of improving the smoothness and suppleness of skin.
INGREDIENTS MATTER
If you prefer bar soap, using an organic, plant-based soap can help retain moisture because, like organic body washes, plant-based bar soaps contain vegetable glycerin. Many big name soap and body wash companies (think of those that you find in your local supermarket or pharmacy) actually remove the glycerin when making their soap, saving this ingredient to put in their lotions because of its moisturizing properties!
When glycerin is removed from the soap making process, the soap actually becomes nothing more than detergent, leaving little to no ingredients to moisturize your skin naturally. Additionally, many soaps, both bar and body wash, contain parabens and sulfates which are known to be some of the harshest and most stripping ingredients for your skin.
WHAT'S GOOD
Dirty Girl Farm has a great selection of organic, vegan body washes that are free from parabens and sulfates yet packed with glycerin, and Great Lakes Bath & Body has the same in their fabulous bar soaps. Not only will your skin be softer, it will be healthier from within!
Reduce the length of time and temperature of your shower.
If you're like me, this one is a tough one because taking a wonderfully long, hot shower feels soooo good, especially in the winter after getting out of a toasty warm bed and being jolted awake by cold air. However, just like a heater pulls the moisture out of the air, hot water absorbs the moisture out of your skin. Reducing the temperature to warm and taking a quicker shower in the winter certainly helps your skin from drying out.
Choose foods that promote hydration.
The following are some of the best foods for maintaining healthy skin: Foods that include omega-3 fatty acids (think salmon) and foods rich in vitamins E and C and beta carotene (as they act as a natural sunblock). There will be a blog in the future about the best and worst foods to eat for your skin, so be on the lookout for that!
Develop a regular skin care routine.
If you're not consistent with a regular skin care routine, there is no better time to start than in the winter! If you do have a regular skin care routine, you may need to change it up a bit to ensure you're getting enough hydration.
CLEANSE
If you suffer from dry facial skin in the winter, or year round, it's important to use a gentle cleanser and a hydrating moisturizer. Eve Organics Beauty creates wonderful, plant-based, organic cleansers, all of which are gentle for whatever skin type you have, but if you are specifically dealing with dry skin in winter, using their Renewal Cleanser or Embrace Cleanser will add extra hydration to your skin.
MOISTURIZE
Using a moisturizer that packs a punch is a must as well. Eve Organics' Renewal Moisturizer, Embrace Absolute Age Defy Moisturizer, and their best-selling Rose Day Cream, which has hyaluronic acid in it, are all great options, and your skin will thank you.
MASK UP
Incorporating a hydration mask once or twice a week, especially in the winter, really helps plump up your skin and adds much needed moisture. This Hydration Boost Mask has been called a "tall drink of water for your face," plus it has gotu kola, which is a fabulous plant-based ingredient to help stimulate collagen production. Booyah! Who doesn't want that?!!
VITAMIN C
Lastly, just like the foods you eat, skin care products that are rich in vitamin C and E promote hydration as well. Natural, effective vitamin C products contain 8 – 20% concentrated vitamin C. This high potency, Vitamin C Serum by Eve Organics has 20% concentrated vitamin C suspended in pure, vegan hyaluronic acid and has vitamin E in it as well.
LEARN MORE
Harborside Bath & Body periodically offers skin care classes, so if you're interested in getting a skin care assessment and trying out our samples, email me to find out the next date!
Wear non-irritating fabric.
If possible, wear soft clothing that has a looser fit and is comfortable to wear so you don't have coarse fabric constantly rubbing against and further irritating dry skin. Additionally, avoid using a regular laundry detergent, and opt for ones that are chemical-free.
Wear gloves.
It's a simple task, yet so many of us run outside or drive with the heat running and we're not wearing our gloves! I know I've been guilty of this. Not wearing gloves in winter can quickly dry out your hands and leave them chapped and scaly. Three products that our customers love for rough, dry, or chapped hands and cuticles are Dirty Girl Farm's Hand & Heel Crack Cream, Rustic MAKA's Botanical Healing Balm, and Eve Organics Beauty's Healing Balm.
So bundle up, enjoy the great outdoors, and use these tips to help prevent dry skin!
---
Let me know what you think!
If you're new to using clean beauty products, I'd love to get your feedback on any that you've tried. Additionally, I'd love to hear about topics you'd like me to cover, so if you have a request, please email me at hayley@harborsidebathandbody.com. My next blog will be about how diet can impact the look and appearance of your skin. There's no better time than at the beginning of a new year to make some healthy changes to your lifestyle. Until next time friends! ~Hayley Rose
CURATED COLLECTIONS
Find products your skin type!
---